My how things have changed
The 2021 summer transfer window was eventful, to say the least – Lionel Messi departed his beloved boyhood club Barcelona following a period of financial turmoil at the club, joining Paris Saint Germain for a jaw-dropping £20m signing-on fee and a further £400k per week in wages. If that signing wasn't enough to make your mouth water (or eyes if you're a Barcelona fan), fellow global superstar and long-time adversary of Messi, Cristiano Ronaldo completed a fairy-tale return to Manchester United, the club where the player began his meteoric rise to stardom, in a deal worth a reported £19m signing-on fee and a further £510k per week in wages.
What happens next
Unsurprisingly, tabloids, pundits, and the media alike were quick to pounce on the blockbuster deals, and you would be hard-pressed to find a football fan across the world hesitant to give their hot take on the matter. One familiar narrative that cropped up was that the clubs will likely recoup their transfer fees and wages through shirt sales. While the view that shirt sales skyrocketed following the transfers is accurate (PSG reportedly sold 150k Messi shirts within the first seven minutes of release, while Manchester United reportedly beat their best 24 hours of sales within the first hour of the release of Ronaldo shirts), the truth is that clubs only see around 10-15% of the resultant shirt sale revenues, with the majority going to licensed kit manufacturers.
There is no doubt that the clubs will benefit commercially from these big-money signings. PSG President, Nasser Al-Khelaifi, stated that the world will be 'shocked' by the financial revenues generated by the club's signing of Lionel Messi[1]. Shirt sales will certainly play a part, alongside the improved match day ticket sales from improved team performances and results from these signings. However, the majority of the revenue will likely be generated through commercial sponsorships, with the universal brand value of Messi and Ronaldo not only drawing additional, more lucrative sponsorship deals but also providing the clubs with leverage to invoke star-player clauses on existing deals[2].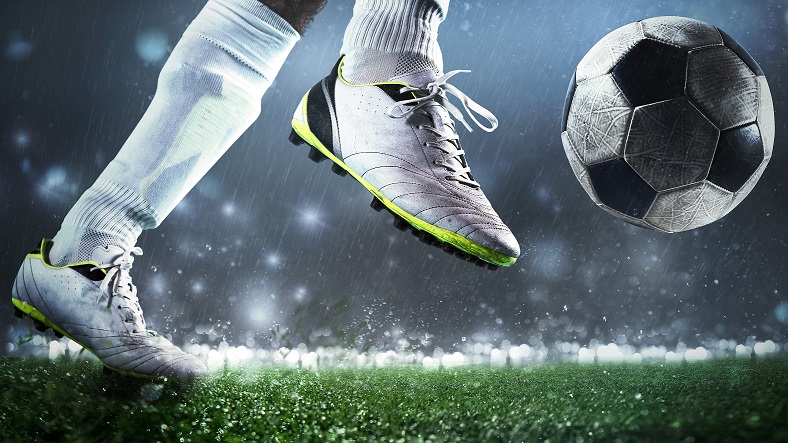 Brand and reputation value
Brand and reputation can be one of the most valuable intellectual property assets created and exploited by an organisation or individual, instilling elements of trust, identity, empathy, and loyalty from customers and followers. In a previous article, we detailed the conscious effort made by players such as Messi to develop and maintain their personal brand through trademark registrations, and the resulting commercial benefits achieved personally by the player including wage improvement negotiations. That said, the universal brand power of star players also has a massive impact on the brand value of their respective clubs. Brand Finance report that Ronaldo's departure from Real Madrid in 2018 resulted in a decrease in the brand value of the club by 18%, with Messi's departure from Barcelona likely to inflict similar damage of 11%[3].
At face value these figures seem staggering, however these iconic superstars became synonymous with that of their clubs over the years, with their universal brands and on-pitch performance undoubtedly attracting new fans, new players wanting to join the club, better commercial deals, and ultimately winning more trophies.
This leap in brand value obviously bodes well for their new clubs, PSG and Manchester United, however it's no surprise that their departure can be the catalyst for an agonising drop in the brand value of their former clubs, as they experience the opposite effect. This decrease in brand value is put sharply in perspective, when looking at the respective brands of the players versus their clubs.
An important element in assessing the value of a brand is to consider the brands' social media following, which is useful in demonstrating overall visibility and reach. The below table displays the social media following of Lionel Messi and Cristiano Ronaldo against that of their respective current and former clubs: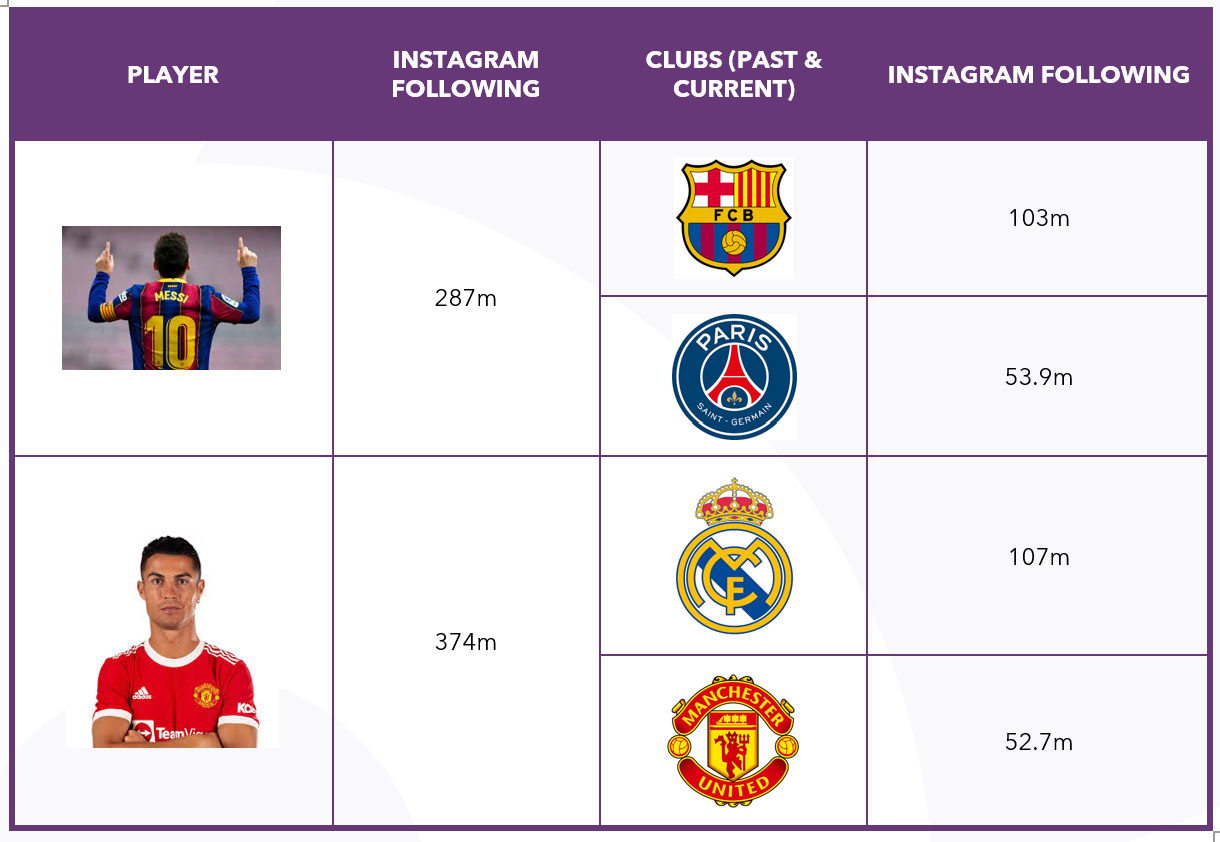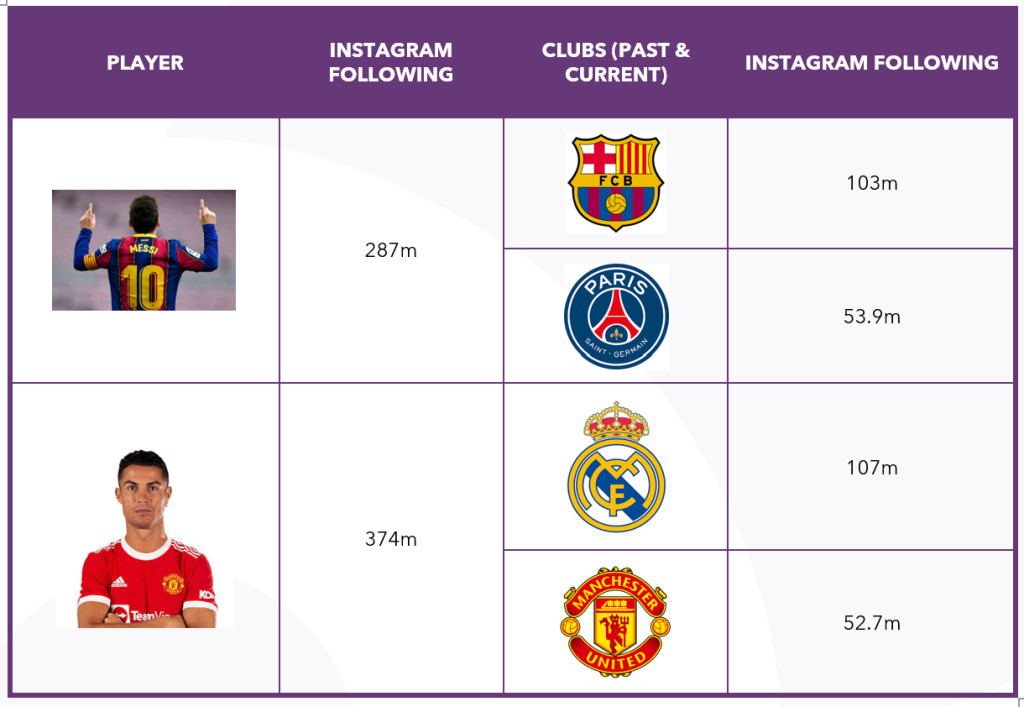 Looking at the above, Messi and Ronaldo both have a substantially larger following than that of their current and former clubs. In fact, Ronaldo has more Instagram followers than all 4 clubs combined, with Messi not far off. Moreover, it has been estimated that prior to the announcement of signing Lionel Messi and Cristiano Ronaldo, PSG and Manchester United had around 38m and 43m Instagram followers respectively[4]. Contrast this with their respective current following of circa 54m and 53m, and we can see that the players have already had a sizeable positive impact on the overall brand exposure and reach of the PSG and Manchester United brands.
What these changes really mean
Thus, while modern football commerce recognises shirt sales can no longer pay for player transfer fees, PSG and Manchester United will recognise the signing of global icons Lionel Messi and Cristiano Ronaldo will undoubtedly be beneficial for the clubs in other ways. The tendency for the players' brands to become harmonious with that of their clubs will more than likely result in marked upticks in these clubs' global visibility, increasing brand value and stimulating revenue through a number of avenues including more lucrative sponsorship deals. For example Manchester Utd have more than twenty corporate sponsors who often pay for the exclusive right to be associated with the club brand and to tap into their global reach, and presumably that of its big stars. Maybe Ronaldo's return will help Manchester United sponsors sell more tyres, more chocolate, flights to Russia, sunglasses, coffee, mattresses and pillows and the list goes on!
---
[1]
https://www.cnbc.com/2021/08/11/messi-psg-president-says-world-will-be-shocked-by-revenues.html
[2]
https://inews.co.uk/sport/football/lionel-messi-psg-shirt-sales-transfer-how-much-money-barcelona-explained-1148091
[3]
https://brandfinance.com/press-releases/messi-departure-could-cost-barcelona-137-million-in-brand-value
[4]
https://sportfive.com/beyond-the-match/en/how-messi-and-ronaldo-broke-the-internet/
Written by David Fitzpatrick, Football Fan, and IP analyst.