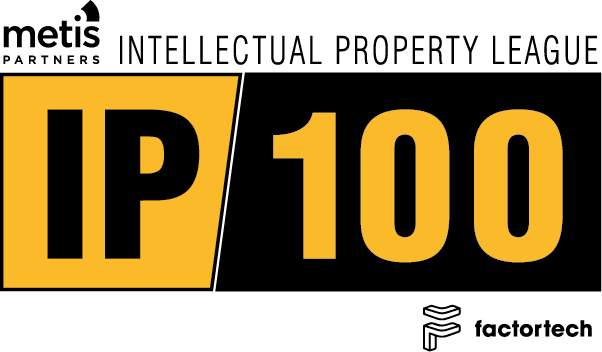 Welcome to IP 100, launched from the UK in 2016 and has expanded since into the US and is now recognized as the leading global intellectual property (IP) league table.
The IP100 is an annual ranking of companies based on a rating of their IP asset strength and track record in exploiting IP. The process involves an assessment of IP-specific data linked to the following IP asset classes: brands, software, patents, trade secrets and critical databases. The IP100 research team uses its proprietary process to calculate an IP score and subsequent ranking for each company.
The top scoring companies will be published in the IP100, an annual ranking of businesses which are considered to be the most effective at commercializing their IP assets. View companies results here.
---
"The IP100 has helped us secure a £10m plus valuation as we have worked hard to become an IP rich business. We've proudly featured in the IP100 since 2016 and through entering have identified areas to improve our IP management. I have been impressed by the difference focusing on IP, especially trade secrets, has made to the organization.  Protecting and managing Digitonic's IP is a critical part of our operations as it can mean the difference between success or failure." Grant Fraser, Managing Director, Digitonic"

Grant Fraser, Managing Director at Digitonic
---
Who Can Enter?
The IP100 is open to all UK, US and CA businesses. It will be published annually.
The IP100 team is pleased to announce that following a period of growth, we will be increasing our investment in the IP100 and the new Dynamic IP League Table. We are confident this will be beneficial to both existing and new entrants who request an IP SCORE. As a result, we have introduced a new modest fee for the IP SCORE, differentiating between new and existing entrants.
"We are committed to the IP100 delivering a net benefit to IP-rich companies and so the cost will be less than the annual cost of decent home broadband service! I think it's a small investment to secure your IP SCORE and the benefits far outweigh the cost."
– Stephen Robertson, Founder IP100.
Why Should You Enter?
The IP100 will provide a platform for gaining recognition for the investment you have made in IP, whether you are using this to:
Boost the exit valuation of your business

Improve access to potential new markets

Protect your existing market share

Create new barriers to entry
IP also has the ability to play an important role in transforming funding options available to your company, as IP assets can now be used to raise finance, realize value on the balance sheet or restructure debt.
The Dynamic IP League Table is a regularly updated benchmark for IP-rich companies to gain recognition for the strength of their IP assets. The current rankings represent the performance and position of the top 50 IP100 entrants at present*, and therefore may change as we continue to score new entrants.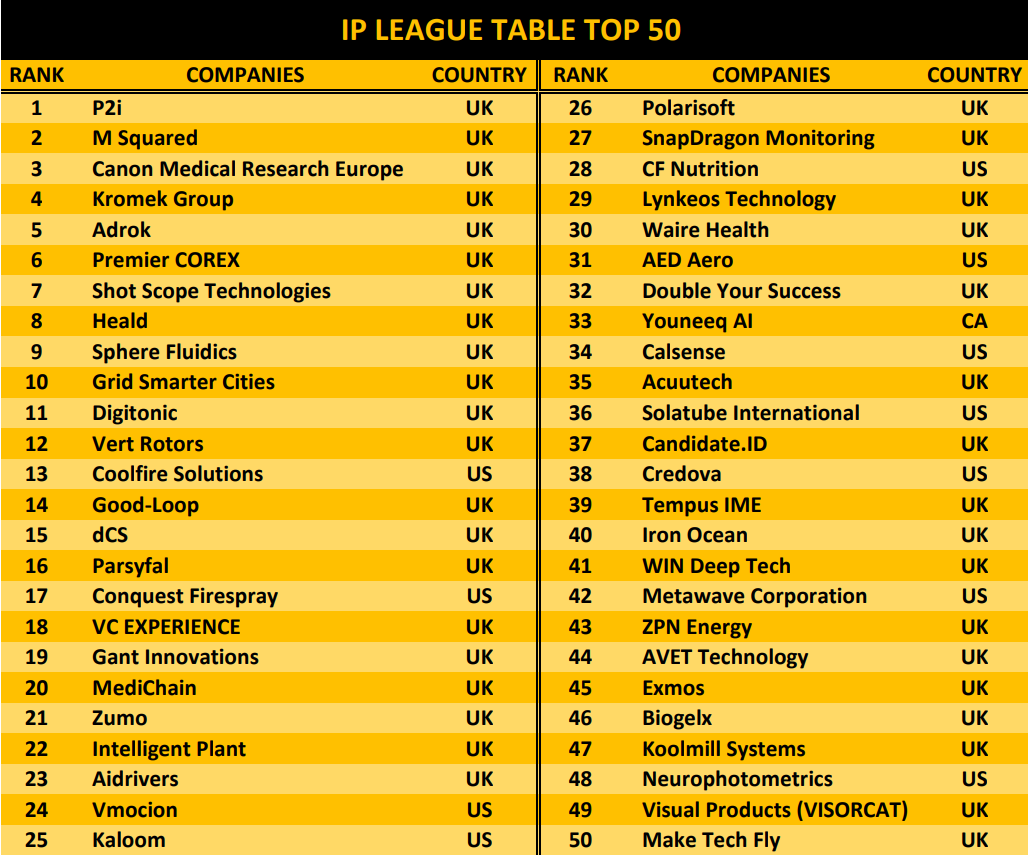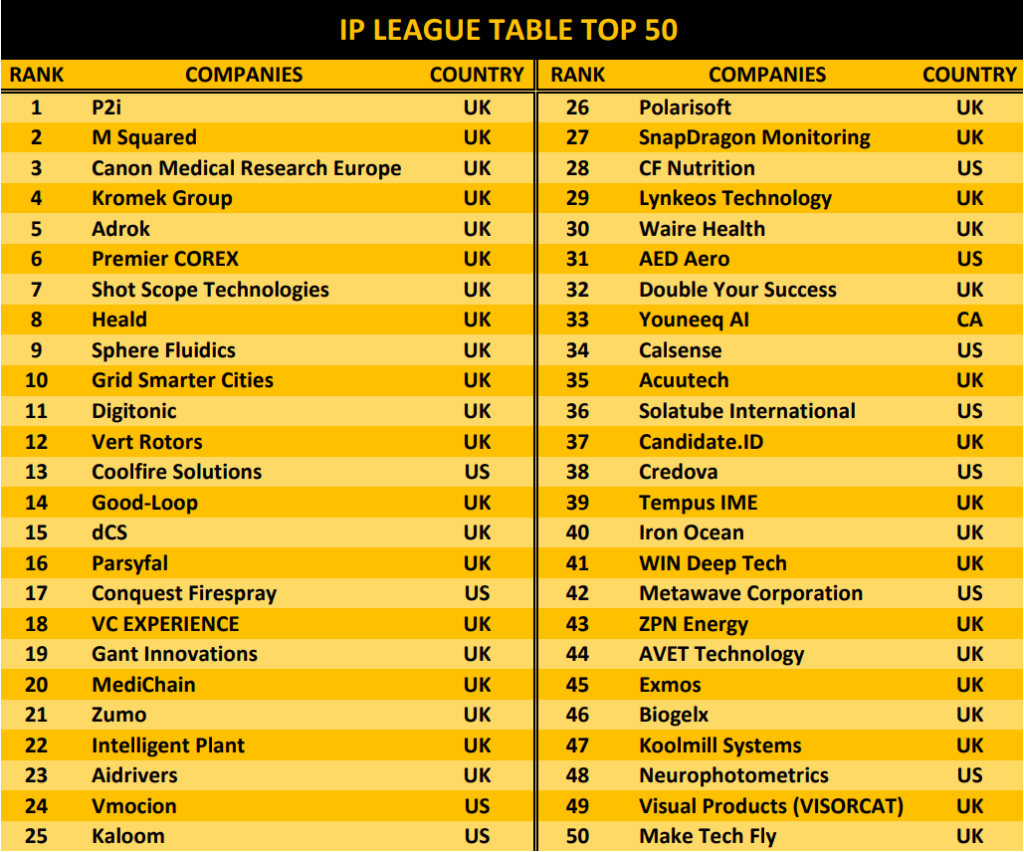 *Using their last recorded IP SCORE which may have been recorded since the last rankings in the 2020 IP100 magazine
To find out more, please submit the request information in the footer.