A few recent news stories have had us thinking about the unlikely relationship between IP and football, of all things… and what better way to explore that relationship than by writing a series of easy-to-read articles. We hope you enjoy, and maybe learn a thing or two about IP and the beautiful game in the process.
The 'Messi' World of Football Trademarks
An office discussion following Emma Raducanu's historic US Open victory, got us thinking about sports stars and their own personal brands. Specifically of interest to us was the news that a third party had lodged a trademark application with the UKIPO for the name "Emma Raducanu," and another for "Radu Can Do." This really highlighted to us the importance of sports stars being IP-savvy and commercially aware, in order to maintain the rights to their personal brands. The applications have since been withdrawn, with Raducanu sure to trademark her own name at the earliest possible opportunity.
Sports stars trademarking their own name is especially prevalent in football – a sport that has grown immensely in a commercial sense over the past 20 years. Huge increases in media engagement and advertising revenue within the sport have made it more commonplace for players to seek to develop their own unique brands, with trademark applications playing a key role in this.
The league table* published by World Trademark Review ("WTR") shown below, reveals the players that have registered the most trademarks: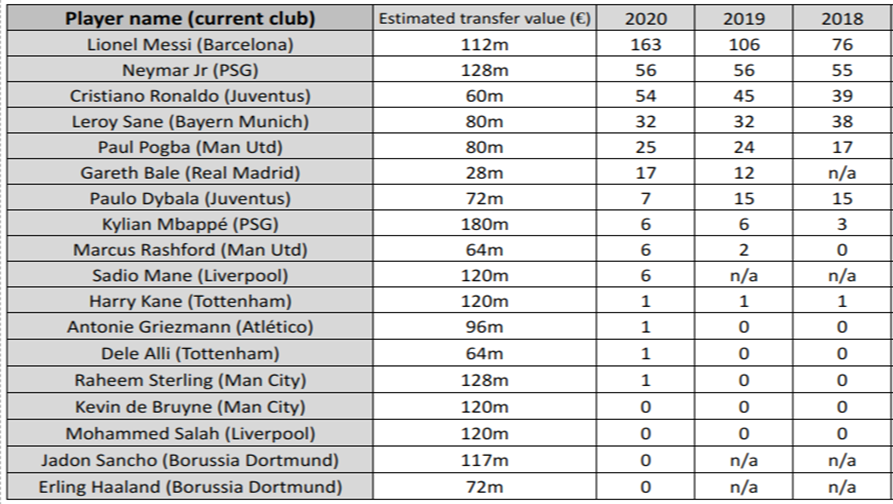 Whilst WTR state that "the quantity of trademarks does not necessarily equal the quality of the protection," it does reveal a little about what certain players are worth in terms of brand value.
Lionel Messi leads the way with 163 registered trademarks. This comes as no surprise, with the player being widely touted as one of the most marketable players of all time, earning more than $30 million in endorsements per annum. His deal with Adidas, which grants them permission to sell Messi branded football boots, is worth $25 million annually for the rest of his life. The player has made a conscious effort to develop and maintain his personal brand and is more than reaping the commercial benefits.
It has not always been plain sailing for the Argentinian. After his initial application to trademark his name in 2011 was challenged by the Spanish cycling brand MASSI, a "Messi" court battle ensued. MASSI argued that the names were too similar and would cause confusion. The EU's general court ruled that the footballer was too famous to be confused with a cycling brand, and Messi was finally able to register the trademark in 2020. The registration of his name and logo across commercially relevant territories, including China, the US, and Argentina, enables the player to sell merchandise and licence out his marks to third parties, such as Adidas.
It is perhaps no surprise meanwhile, that the three players in the league table with the most registered trademarks (Messi, Ronaldo, and Neymar), occupy places 2, 3, and 4 in the Forbes list of highest-paid athletes in 2020, perhaps suggesting players can command both higher wages from their club and a greater number of endorsement deals, where they have successfully created genuine 'brand value.'
No doubt, a greater awareness on the part of these three players to develop their own intellectual property strategy has in turn led to a greater social media presence. Not only are they ranked amongst the highest-paid footballers, they are also ranked as the three footballers with the most social media followers. Cristiano Ronaldo has 374m followers on Instagram, whilst Lionel Messi has 287m and Neymar has 166m. It's no surprise that clubs across the world sign and retain players for their contribution to the team both on and off the pitch and often pay over the odds in wages for the pleasure.
If footballers' wages are linked to their contributions to the team both on the pitch and in public and that includes the success of their IP strategies which can impact their brand values, then perhaps it's no surprise that Mo Salah is struggling in his contract negotiations, when he's sitting at bottom of the rankings with zero registered trademarks. Although one of the best players in the world, he is currently locked in contract talks with Liverpool who seem reluctant to offer him the £400,000 a week, he believes he deserves. Were he to sit at the top of the trademark or social media league table, would they be so resistant to paying him the higher wages? Possibly… but they more than likely wouldn't think twice about paying a premium price to have him represent their club.
Erling Halaand is one of the bright young Norwegian stars in modern football and he's famous for his 'trademark' meditation goal celebration. However, he might be better advised to focus on his trademark filing and IP strategy, to move off the bottom of the trademark league table and improve his future endorsements and contract negotiations before the January transfer window!
Although it is not always possible for a player to trademark their own name or logo due to the sometimes "messy" world of IP, the more commercially aware players are doing so. It would appear that they too can profit from an active IP strategy, increasing their personal brand value and social media following, often leading to significant commercial benefits, including more endorsement deals and ultimately higher wages.
Players will no doubt be keeping an eye both on their club's league table position, and the trademark league table activity!
Written by Struan MacArthur, Football Player & Fan, and IP analyst.
*https://www.worldtrademarkreview.com/brand-management/manchester-united-crowned-champions-of-trademarks-premier-league-messi-tops-player-ranking