What happened
Last week saw the conclusion of a $70 million sale of Napster – the online music store and subscription service – to the UK based, virtual reality music concert start-up, MelodyVR. This sale has generated prolific attention in the music industry particularly around the turnaround of Napster, whose trading history is riddled with Intellectual Property disputes and financial distress.
The details
Founded in June 1999, Napster was originally based on the concept of a free online peer-to-peer music sharing software, facilitating MP3 file transfers between users of the platform. The program became an immediate success; thanks to a simple user interface and the dedicated approach to only transferring music; Napster generated a user base of circa 80 million within two years. Not only were users able to listen to their favorite songs, but certain music (older singles that were never made publicly available in digital form, rare or exclusive albums, concert and studio-session recordings) had been made much easier to obtain than before. Furthermore, up and coming artists looking to grow their audience favored Napster, as they were able to share their work free of charge to a vast audience, and in return gain popularity and boost future sales. Halfway through 2000, circa 14,000 songs were being downloaded every minute on the platform.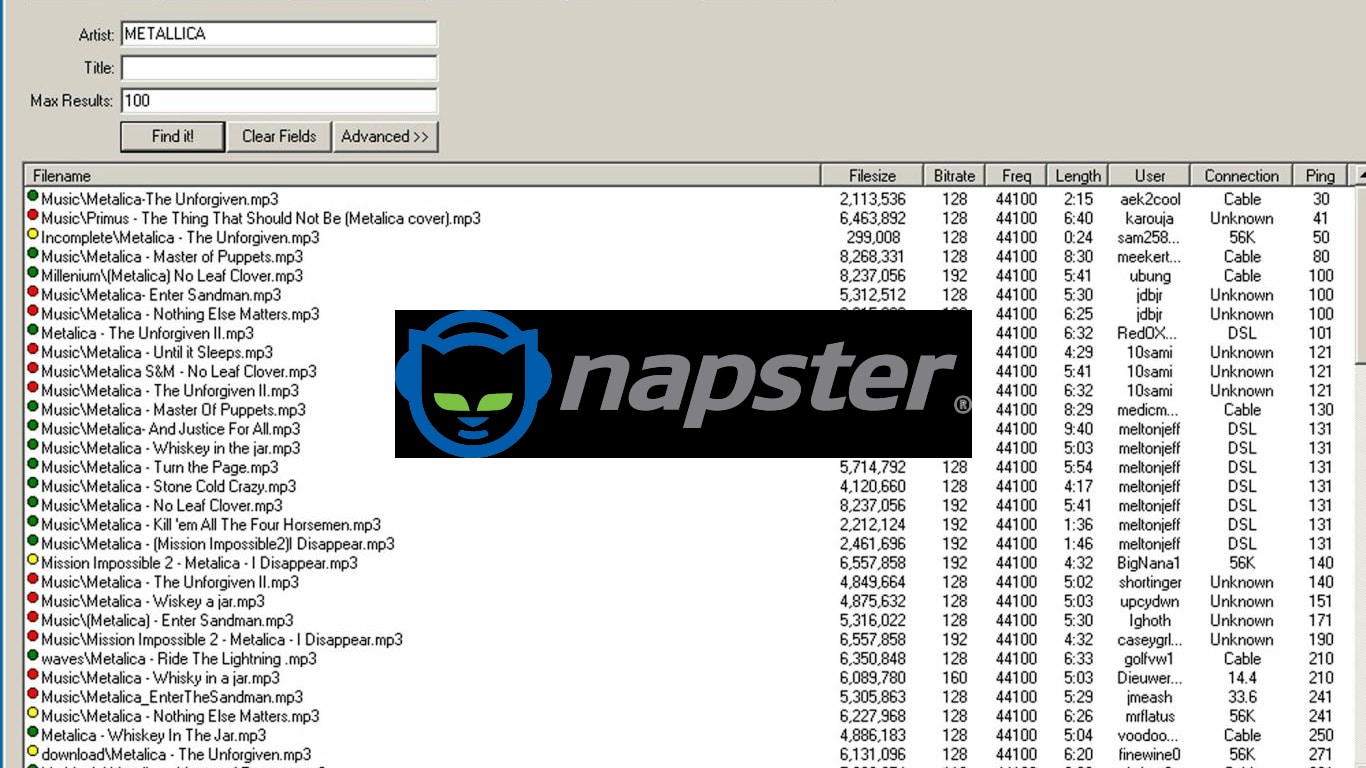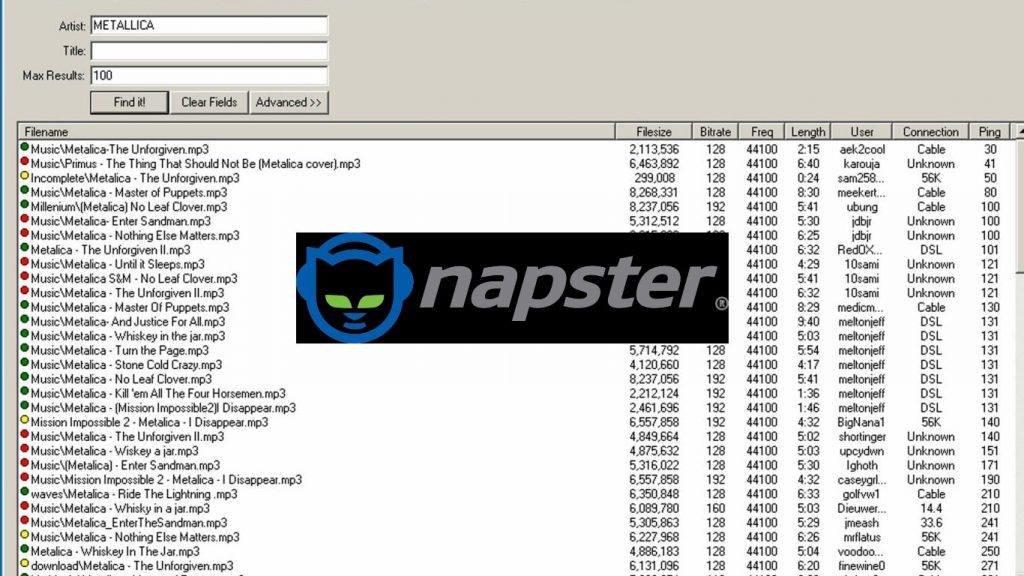 Where It All Went Wrong
Napster's innovative software and success led to the company's downfall – the majority of media made accessible on the platform was uploaded without licensed approval, and hence the site was hosting an incredibly high scale exploit and defiance of copyright law. Due to the lack of control and review process over files made available for transfer, anything and everything was being shared on the site – essentially making the website a hotspot for illegal infringement.
Many artists, namely Dr. Dre and Metallica, were alerted to a vast library of their past and, more surprisingly, yet to be released music being enjoyed by millions of users and even radio stations without consent. With the lack of any agreement, and more importantly royalties being paid to the artist, it was obvious that action was to be taken on the company.
This inevitably led to a lawsuit filed by the Recording Industry Association of America (RIAA), a US trade organisation representing record labels including Sony Music Entertainment, Warner Music Group and subsidiaries of Universal Music Group (UMG). This suit – A&M Records, Inc. v Napster, Inc. (2001) – followed previous suits filed by both Dr. Dre and Metallica, with Napster being subject to the following copyright infringement claims:
That Napster's users were directly violating the plaintiffs' copyrights;
That Napster was responsible for contributory infringement of the plaintiffs' copyrights; and
That Napster was responsible for vicarious infringement of the plaintiffs' copyrights.
Understandably, Napster failed to win the lawsuit, and were faced with a compensation settlement of $36 million; $26 million for lost revenue from past songs, and a further $10 million as prepayment for future royalties. After only two years of running, the company was forced to shut down its service – skip forward a year later, Napster was unsuccessful in filing for Chapter 11 bankruptcy protection and was forced to liquidate its assets.
Napster's Road to Recovery
Following bankruptcy, the Intellectual Property assets of Napster (including the company's corporate brand and logos) were purchased by another American software company, Roxio. The Napster brand was subsequently sold to Best Buy in 2008, before a share offering agreement in 2011 saw a merger with Rhapsody, an online streaming service. Napster, now rejuvenated and, with over 90 million licensed singles, complying with copyright regulations, offers a subscription based service which allows users to stream music on a multitude of devices, similar to services offered by the likes of Spotify, Apple and Amazon.
That brings us to the 25th of August 2020, where it was confirmed that MelodyVR had acquired Napster for $70 million (circa £52.5 million), with a view to combining the capabilities, worldwide userbase and music library of Napster, with the innovative live performance functionality that MelodyVR has designed. And, despite Napster's controversial history, news of this sale resulted in a 3% rise in MelodyVR's share price valuing the London-based company at £76m. It remains to be seen if this relatively small, albeit sophisticated, streaming company can compete with the heavyweights that dominate the market, and break through once again as an innovate platform as it did at the turn of the century – however this time for all the right reasons.
The fate of Sean Parker
And as for developer and co-founder Sean Parker, the initial downfall of Napster proved not to be much of an issue; after leaving Napster behind, he partnered with Mark Zuckerberg in the early days of Facebook, becoming its first President, and then invested in the then up and coming music-streaming service, Spotify. With an obvious eye for successful start-ups, Parker is now a billionaire.
The story of Napster covers a number of vastly important areas of Intellectual Property. Looking at the early days of the company, its model illustrates the importance of IP policing; many IP rich companies and individuals suffer from the exploitation of their Intellectual Property rights, and without sufficient policing policies to monitor said infringements, a significant loss can be incurred. Whether it be financially in revenue lost to a competitor, or a brand affected by negative attention through lower quality copycat products.
Alternatively, the resurrection of the Napster brand shows the value that can be attributed to Intellectual Property assets of companies in financial distress, given the restructuring success that can often thrive despite historic setbacks. Having being passed through multiple ownership and nine-figure transactions, it is obvious that the Napster brand and related IP assets hold significant value, and in this case, a $70 million price tag.