We are delighted to announce the 2020 results for the sixth annual Intellectual Property (IP) League Table.
Firstly, welcome to the many new entrants to the IP100, several of whom have entered both the top twenty overall and secured top places in individual IP asset categories. We have been impressed with the high standard of intellectual property (IP) management evident from companies who have improved their position significantly from last year, moving more than 15 places in some categories. In addition, two new entrants achieved Top 20 positions in software and three new entrants achieved Top 20 in Brand & Reputation, proving once again that the IP100 is enabling these companies to gain the recognition they deserve for the investment in IP.
We congratulate all our new IP100 entrants for taking an active role in putting their IP assets and IP strategy 'under the spotlight'. We are delighted to welcome them into the IP100 community and hope that in 2021 we will be able to welcome you to in-person IP100 Club events before the year is out, to hear first-hand from other IP-rich fast-growing entrants how they best protect and leverage their IP to support business expansion. Entrants will now realise that securing your IP score is just the beginning of this journey. IP100 companies use their score as a benchmark, a valuable baseline from which to review their IP strategies. We look forward to seeing how our new entrants improve and bolster their IP portfolios and IP score over the next year.
Intellectual Property IP100 – Top 20 Entrants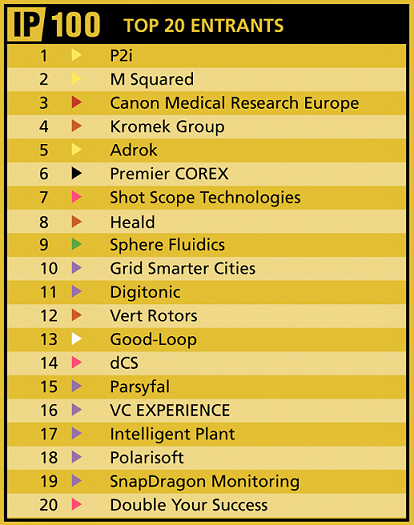 Congratulations go to P2i who was the top scoring IP100 company in the 2020 rankings, having been runner-up for the last two consecutive years. P2i develops and manufactures liquid repellent nanocoatings, and its outstanding IP strategy and IP management resulted in it achieving Top 3 positions in four of the five IP asset categories this year. Last year's winner, M Squared, a photonics technology company, continued its IP100 legacy, taking the runner-up spot this year. In third place was Canon Medical Research Europe, the medical software research and development centre based in Edinburgh. These three companies are our 'patent giants' and were again the top 3 entrants in the patent category.
Major moves were made by Intelligent Plant, Parsyfal and dCS (Data Conversion Systems) who all achieved notable improvements in their IP score as a result of both creating new IP assets and improving IP management which was reflected in their overall rankings.
We saw evidence during this turbulent last 12 months, how a robust IP strategy can be vital to the sustainability of any business operating in the modern economy; where your customer loyalty program can steer a primary revenue channel, and where you are forced to pivot to focus on a digital presence when normal channels have been temporarily closed. We were excited to score several new IP100 entrants that clearly have invested in building strong IP portfolios and actively managing these assets. Notable new entrants who achieved Top 20 positions in their 'rookie year' were Vert Rotors, SnapDragon Monitoring and VC EXPERIENCE.
Intellectual Property IP100 – Brand & Reputation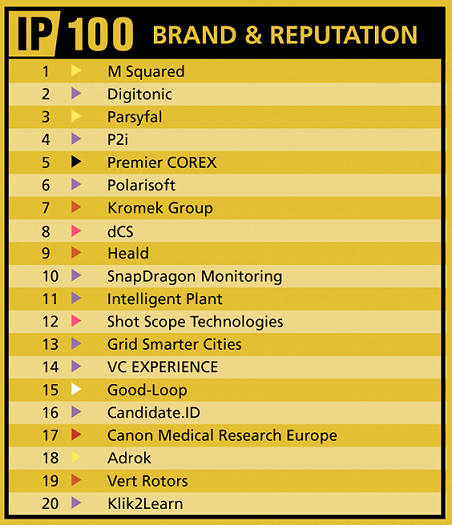 This year, M Squared, a photonics technology company, who came second overall in the League Table, achieved the top spot in Brand & Reputation. Technology-driven mobile marketing company, Digitonic, was in second place with its sophisticated brand portfolio and brand strategy. P2i climbed four places in Brand & Reputation this year, to take third place.
Marketing channels, particularly social media, remain important to entrants with 56% of them having a committed strategy for both direct and indirect marketing. Despite the pandemic halting physical trade shows, exhibitions and events, IP100 companies are adapting to a digital environment in order to sustain their market exposure, with over 90% of entrants engaging in regular online events.
Intellectual Property IP100 – Patents
The 2020 IP100 Top 3 were in the same running order in the patent category. P2i took the honours, with M Squared and Canon Medical Research Europe in second and third, respectively. Although these patent-rich businesses were table-topping in this category in 2019, they all had bolstered their patent portfolios over the last 12 months. This asset class had the narrowest margin separating the top two entrants, with P2i edging into first place by less than a percentage point in a highly competitive asset class showcasing these innovative technology companies.
A key trend of 2020 was increased IP protection, but it is not just protection for the sake of it. For many IP100 companies, their patents underpin materially significant revenue streams. 75% of entrants in this category estimated that their patents underpinned more than 50% of their revenue streams.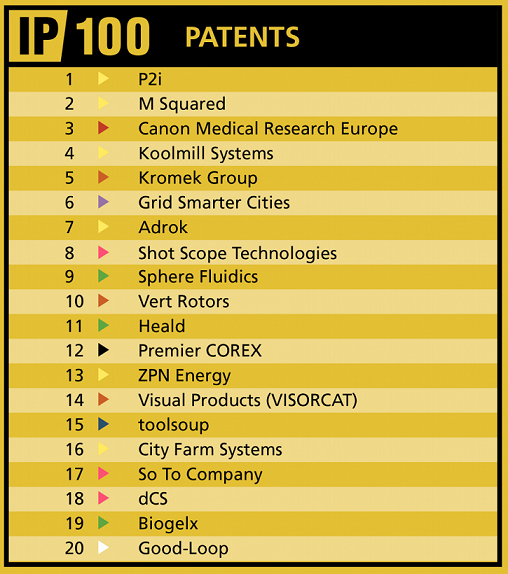 Intellectual Property IP100 – Critical Databases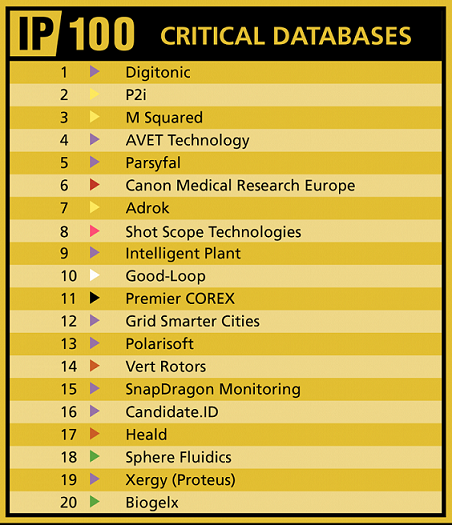 The GDPR revolution may be over, but nevertheless we saw an increase once again in the average score for entrants in the Critical Databases Asset Category. In first place, with the strongest score in a single IP asset category, was Digitonic, who jumped five places this year to claim the top spot. In second place was P2i, who utilise proprietary product and chemistry databases to support their revenue streams. Third place went to M Squared, who rely on data and analytics as well as maintaining a robust data management strategy to ensure GDPR compliance.
Intellectual Property IP100 – Trade Secrets
More entrants than ever are utilising trade secrets to protect their most critical IP assets, with 75% of all entrants reporting they recognise trade secrets in their business. Almost all of the entrants who scored in this category reported that they segregated trade secret access within their business to provide a higher degree of protection.
In first place was Digitonic and second place again went to Sphere Fluidics, who have maintained a strong trade secrets policy having achieved the runner-up spot in this asset class in 2019. IP100 overall winner of 2020, P2i, secured third place in the Trade Secret category.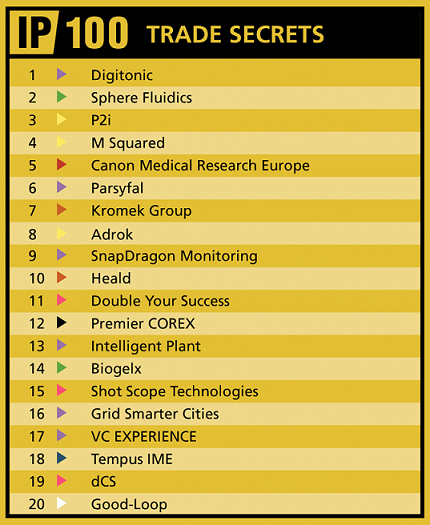 Intellectual Property IP100 – Software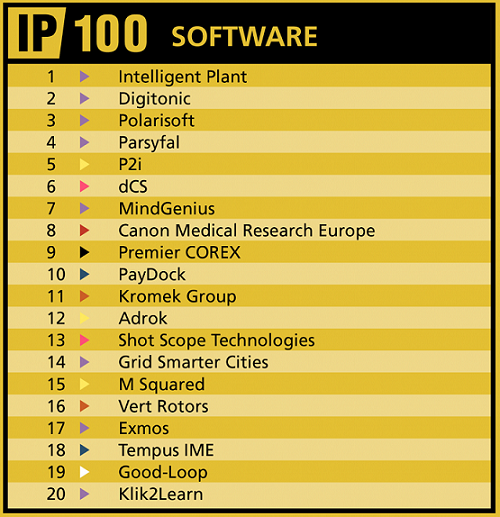 Software continues to be the most highly contested IP asset category, with the top 20 separated by less than ten percentage points. Three quarters of entrants scoring in this category have developed software models to underpin a product and more than half have developed a SaaS model for distributing software. Software protection is a key part of software development, with all scoring entrants utilising encryption and offsite backups, typically via cloud services. Congratulations goes to Intelligent Plant who moved up from third position last year to top the Software asset category in 2020. Their Industrial App Store enables oil & gas related operators to streamline production, increase efficiency and limit unnecessary expenditure.
While you're here, feel free to learn more about Metis Partners and how we provide excellence in Intellectual Property Valuations, Intellectual Property Advisory, Restructuring and Bankruptcy and so much more.